I Have More Free Time!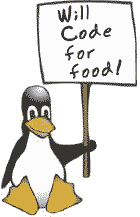 Well, in a manner of speaking. As of May 16th the company I work for goes away. Anyone know of a companies in California that are looking for a senior, object-oriented software engineer type? Tons of experience. I mean, Holy Moley ... I've been programming under Unix for twenty years. Doing C++ for fifteen. I'll be your friend if you find me a job. Send any leads to "jobsearch" at sizzlingweasel.com!

I can throw more buzzwords at ya, or even a resume if you want. Sample buzzwords: UML! HTML! Threads! CORBA!