Doonesbury -- Voice of the Paleomedia?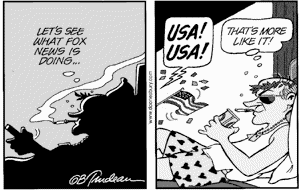 Dang. I remember back in the 70s when Doonesbury was cutting edge. Well, some of it could be that that was just my perception as a relatively naive student. Let's say topical, anyway. Anyhow, every now and then, I take a look at Trudeau's latest and almost always come away disappointed. Take a look at this monday's strip Just after we find out that CNN was covering up news in Iraq, Doonesbury is taking cliche shots at Fox News.

One thing I've noticed is that way too many characters are in the media. Reporters, radio commentators, columnists, advertisers, web publishes, etc. It's amazingly media-centric. He's writing from a comfy place within the media and just can't see outside anymore. The "established" media tends to see Fox as an upstart, so Trudeau does too. CNN is "in the club", so why fret about them? That's my theory, anyway. Well... maybe not a theory, just something that popped into my head while reading the Doonesbury website.

Ah, I think I'll just go read Get Fuzzy, then go to bed.