PETA Disses Patriotic Dolphins!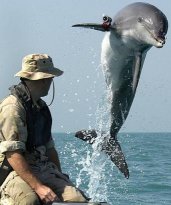 Well apparently PETA thinks that those nice dolphins helping to get ships full of humaitarian aid to Iraq safely are a bunch of slackers. According to PETA, it's a bad idea to depend on dolphins, since they will do a half-assed job. Apparently they slack off unless they understand that lives are at stake... standing around on the gulf floor, eatin' donuts and such.

Maybe PETA is just cranky because they just lost yet another frivolous lawsuit.

What will really be fun is when PETA funds out that
Morocco has offered us 2,000 monkeys, trained to detonate land mines. The fur will fly then. So to speak.